Karen Cayer – KW Cultural Ambassador of Canada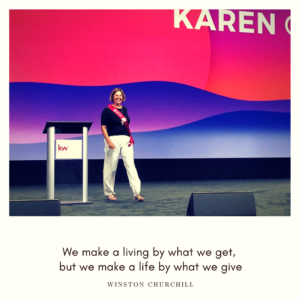 August has been a whirlwind month for the Ottawa 4 You Real Estate Team … but amidst it all it was also a time of great celebration as our fearless Team Leader, Karen Cayer was honoured with the title of Keller Williams Cultural Ambassador of Canada (you read that right … for the whole country!).
The 13th annual Cultural Summit was hosted as a part of Mega Camp in Austin, TX.  Karen, along with 66 other inductees participated in a moving ceremony celebrating the accomplishments and spirit of these amazing people.
We wanted to share Karen's culture story from the summit. We are so proud of her and everything she does and hope you will join us in a HUGE CONGRATULATIONS!
I began real estate with the idealistic notion of having the freedom to someday be my own boss, to set my own terms, and to find success in every opportunity — and while I certainly still strive for those ideals, I learned very quickly that the way for me to be the best agent (mother, wife, friend, daughter … many, many hats!) I could be was by putting others first. 
 Keller Williams has always been a business about people.  When you provide your clients with outstanding service, value, and care, the profits take care of themselves. It promotes a culture that creates a sense of family that is so rare in this industry. When you're here, you're family.
 I am a firm believer that you can make the biggest impact in the lives of others with the smallest actions: a friendly telephone chat, a helping hand, a home-cooked meal, a thoughtful card, a social event to build a strong sense of community … love shines through these actions. Giving isn't always a grand gesture, a large donation, or a big show of gratitude. Small acts can speak volumes.
 I consider myself so blessed to be in a position where I can be an ambassador for change. As a member of the Agent Leadership Council (ALC), I know that the modest ways I serve our market centre and community set an example for others. It is a simple formula, but if you can smile, listen to others, be positive, and stay humble, you will make the world a better place one interaction at a time.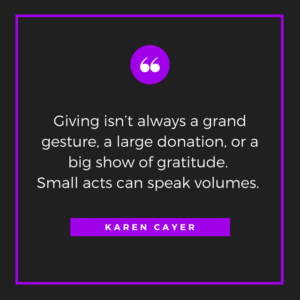 I was challenged early on in these beliefs when one of our own was dealing with an aggressive and terminal cancer diagnosis. Not only was she struggling physically, but she also worked tirelessly in an attempt to make ends meet. As much as our office worked to support her with day-to-day, I felt that more could be done. I spear-headed an application to KW Cares which was eventually approved. Through KW Cares we were able to cover our agent's rent and expenses and provide her with the freedom to focus on the most important things (family & friends) in her final days. I feel so fortunate to work for a company that provides opportunities like this, a family that cares for its own.
 Winston Churchill once said "We make a living by what we get, but we make a life by what we give" – Culture at Keller Williams embodies this mandate in everything that it strives for and provides us all with the great opportunity to leave a legacy worth leaving!