Questions for Second-Time Home Buyers!?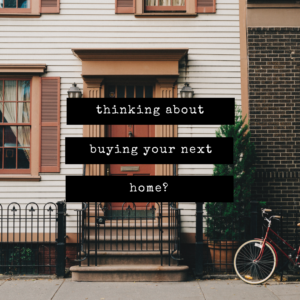 There are endless articles talking about the essential questions that first-time home buyers should ask before buying a home.  We thought it might be useful to put together a list of questions the mature home buyer should be asking and might often overlook (and trust us, these questions only scratch the surface).
The best advice you can give anyone looking to purchase real estate is to find a Realtor they can trust. This person is going to make sure there is no stone left unturned in your search for the right home … but next to that, consider the following questions:
Do you have a long-term plan?
You've made the decision to move (maybe based on job, or a loved one, or aging family) … but have you taken the time to think about what this means long term? How long do you believe you will live in this new home? Would it make more sense to stay where you are and invest in upgrades to see a greater resale value down the line? Do you want to keep where you live now as an investment property? If yes, do you know the laws surrounding tenants?
What features are lacking from your current home which you would need to find in your next investment?
Maybe your starter home didn't have a garage and you refuse to go through one more winter of scraping windows in the early morning chill? Maybe you forgot about prioritizing storage in your original search for a forever home and want to correct that now? Whatever is lacking where you are – these are the things you don't want to miss in this second chance.
If you are going to be selling your current home and purchasing your next, have you thought about where you are going to live if your current home sells and you haven't found your next home yet?

Are you willing to sacrifice waiting for a property that checks all of your boxes in order to ensure your current home sells at the right price?
The logistics of selling and buying at the same time can be tricky and something that a great Realtor can help guide you through. Each circumstance is different, we recommend chatting with your Realtor about your needs and priorities.
Is there any circumstance where you would choose to stay in your current home rather than buy a new home?
Asking yourself these questions ahead of time prepares you (and your agent) for the future and ensures that everyone is working with the same information and prioritizing the same goals. A great agent will want you to do what is right for you and not just get you into another home and leave you high and dry. If you're feeling pressured, you are with the wrong agent.
Buying your next home is all about patience. You need to remind yourself that moving is a big commitment, and that if you're choosing to move again it's because you are working towards your goals. Wait for the right property to come along, make sure that it offers what you are looking for and that it is worth all the costs that come along with moving. Sometimes you'll be lucky and the perfect home will pop up instantly – but if its not perfect, don't settle. It will all come down to your unique circumstance, but on average we always caution sober-second thought over jumping the gun.
Are you or someone you know thinking about buying your next home? Do you know the right questions to ask? Send us an e-mail and let us guide you on your next adventure!
Happy House Hunting!