Vacation Dreaming – Where to Find Cheap Flights Online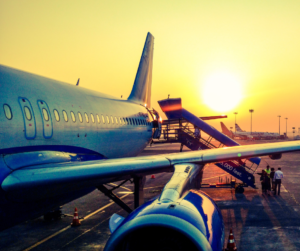 I recently decided that it would be fun to whisk my boyfriend away on a long weekend getaway. Picking a date was the easy part – deciding where to go was a whole other battle.
Overwhelmed with what seemed like an endless list of options I found out that my new best friend was going to be Google Flights:
 As easy as choosing ….
Where are you going to depart from
How many people are going to be traveling with you
Selecting the dates you want to travel
Pressing the Search Button

Leaving your search destination blank means that it will show you all your options and the costs associated with getting there.

From here you can drag your map to explore all kinds of places and see if the average airline cost even makes it worthwhile to explore further.
Once I narrowed down my search to my top three destinations I wanted a way to track flight costs to understand if rates were going up or going down overtime (as I was fortunate enough to have about a month of time in between starting my search and when we wanted to depart).
I set up a search alert on Skyscanner, which meant that anytime there was a price drop/price increase on my selected destinations based on the dates I wanted to travel I was automatically notified.
I'm a fan of packaging things whenever it adds the most value. I was fortunate to stumble upon Vacations by Marriott, which showed me bundle packages including airfare, accommodations, and car rental. Of course, accommodation options were limited to Marriott locations (which may not work for some travelers), but still I was impressed by the options available – and again it helped gauge what pricing I was looking at for a complete trip.
Once my destination was finalized, I made sure to do one last check on the airline's corporate website to ensure that I was getting the best deal from Skyscanner (and other online search portals for travel arrangements). It never hurts to double check to see if they're willing to give you a better deal if you book direct with the source.
If you end up having more flexibility with your planning and are not restricted by rigid timelines YOW Deals can be an incredibly helpful site. It's not always relevant for last-minute steals, but if you're planning far enough in advance and see the right opportunity it can definitely be worth keeping an eye on.
Best of Luck and Happy Travels!