Sundae School – Ice Cream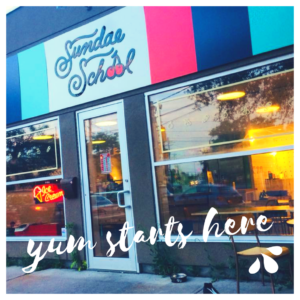 Summer might be gone … but that doesn't mean we can't cling to its warm memories with everything we have.
I had the great fortune of stumbling upon this cute little ice creamery this past summer and knew that my life had been forever changed. Everything about it from its menu, branding, and of course, the ice cream makes you fall in love.
Sundae School is located on the fringe of Lindenlea at 131 Beechwood Avenue. Hidden in plain sight, it's definitely worth the trip.
You can choose from amazing house specials like Pop Quiz (vanilla ice cream, salted caramel, popcorn, and Skor pieces), or make your own creation … with endless possibilities!
If these pictures don't have you drooling … you might be blind 😛