A Post-Marie-Kondo Ottawa – Where to Donate The Things you Don't Need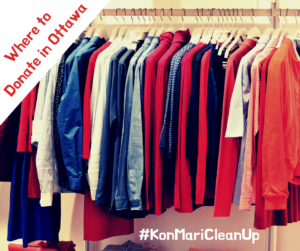 Unless you've been under a rock, you've likely heard by now of the Netflix sensation Maire Kondo. As Vox so masterfully quipped, "Marie Kondo is a celebrity of tidying, and yes, it turns out that is a thing."
Throwing away those items that don't bring you joy, learning how to masterfully fold even the most awkward of clothing items, thrift stores across North America are seeing a tidal influx of charitable donations … it's a KonMari revolution.
Her method is easily broken down into two parts: "discarding & sorting"
If the item you hold in your hand doesn't bring your life joy (and it's a feel thing, if it does, you'll just know!) then it's "so long, baby!"
We thought it might be useful to put together a list of places you can take your donations to here in Ottawa – because one man's trash is another man's treasure 😉
1490 Richmond Road
1616 Merivale Road
1826 Robertson Road
1010 Belfast Road
2659 Alta Vista Road
Accepting: gently used clothing, textiles, housewares, furniture, electronics, toys, media and books, accessories, antiques and collectables
Society of St. Vincent de Paul:
1273 Wellington Street West
1620 Merivale Road
Multiple locations available in Gatineau as well
Accepting: clothing, drapery furniture, and household goods
Please contact at office@cartyhouse.org to find out current needs and how to drop off.
Accepting: household goods, clothing, and furniture, in excellent and usable condition
Accepting: clothing to provide economically disadvantaged but employment ready women with interview appropriate suits and accessories (e.g. modern/current suits and separates, shoes, purses – must be clean, laundered and seasonally appropriate; new hosiery and undergarments – must have tags on; unopened toiletries and cosmetics)
35 Waller Street
Able to provide pick up service upon request
Accepting: New men's underwear, men's disposable razors, shaving cream and deodorant, new or gently used bath towels, men's steel toe work boots (9-12), men's fall coats, men's jeans
Accepting: books, toiletries, household items, new kid's toys, bus tickets, canned and dried food, gift certificates (Loblaws, Giant Tiger, Long Distance Calling Cards, etc.)
233 Murray Street, Door #3
 Accepting: Clothing, canned food, some housewares (restrictions apply), razors, running shoes, blankets, food vouchers, gift cards, small appliances (restrictions apply), winter clothing,
 Accepting: formal shoes, dresses, purses, jewelry, and unopened cosmetics and hosiery (e.g. current style gowns)
1824 Bank Street
1651 Merivale Road
4345 Strandherd Drive
1221 Cyrville Road
5487 Hazeldean Road
Accepting: gently used clothing & shoes, housewares, books, media, kitchenware and other items
Best of Luck on Your Quest for Joy 🙂