Bathtub Blues – The Modern Move Away from Baths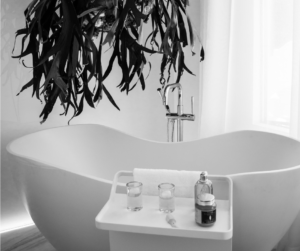 The Star recently wrote an article touting that bathtubs were becoming a thing of the past – and I realized that although I easily recognized this trend, it was never something I gave a second thought to.
A deep and jetted bathtub has always been a point of envy for me. As someone who is just over 6' tall, finding a bathtub where I can lay comfortably is always a challenge – so when I happen across one it's my favourite thing of life.
The article explores (much to my chagrin) that "many of the newer US boutique hotel brands, such as Canopy by Hilton, have done away with bathtubs altogether. Instead, each bathroom is outfitted with a barrier-free, walk-in shower. After years of research … Canopy found that their guests most valued functionality such as extra storage, doorless "open" closets, and walk-in showers."
Entertainingly, one realtor described the bathtub as "the fireplace of the bathroom … many people still want both tubs and fireplaces, but the reality is that they don't use either as often as they might think"
This move away from bathtubs in modern society, may not necessarily be a bad thing. Bathtubs are often a drain on resources and an inconvenience: they take up a larger amount of space, use more water to fill than a typical shower, they are often difficult for the elderly to access, and the whole process of a bath can be rather time consuming. Unless you have children, the cons often outweigh the pros.
On the flip side of this argument I know people who couldn't go without their bathtub. The ability to come home after a long day at work and soak away muscle soreness is everything to them.
Feeling like you've been overlooking this bathroom staple? Fall back in love with baths and carve out some "me time" in your schedule. Lush offers incredible bath oils to add a little extra luxury to your soak. Not only do the oils moisturize your skin, but they're much easier clean up that a traditional bath bomb that explodes with colour everywhere. One of our fan favourites is You've Been Mangoed for its zesty lemongrass, lemon, and lime oils that are simply irresistible.
Will your next home have a bath? Is it even important to you that it does? We're interested to know what you think.
Leave a comment below!