Cancer Champion's Breakfast 2018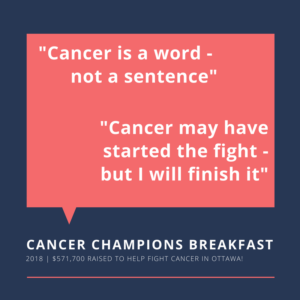 It's been just over a month since this powerful event, and it still resonates in our hearts.
On Wednesday May 9th, 2018 the Ottawa Regional Cancer Foundation hosted the Cancer Champions Breakfast. This is the not the first year that Karen on behalf of the Ottawa 4 You Team has attended this inspiring event, attended by over 500 business and community leaders in the Ottawa region.
The breakfast highlights moving and emotional stories directly from our community, from those whose lives have been touched by cancer. It also allows participants the opportunity to engage with leading local doctors, researchers, and wellness professionals about what is on the horizon for cancer care.
An amazing $571,700 was raised from the day's event. This was in large part thanks to a generous matching gift from GumDocs  of $200,000! Ottawa is truly a community that cares, and we are so blessed to be a part of it.
All funds raised by the event help support local cancer initiatives like clinical trials and community cancer coaching for all cancer survivors, as well as their families and caregivers. This coaching takes a holistic approach to the individual and collaborates with the patient to help overcome any obstacles they may face.
We are getting to a point where you can't walk outside your door and not come face to face with someone whose life has been impacted by this tragic disease. The Ontario Regional Cancer Foundation is always collecting donations to support local efforts here at home. Please consider donating today. 
Together we can make all the difference!