Christmas Gift Ideas for Dad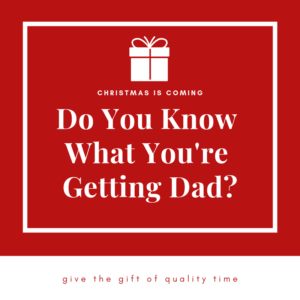 If your dad is like mine, then golf is the answer to most gifting seasons: New clubs? New T-Shirts? New Tees? New Balls? New Membership? New Guest Pass? New Hat? New Umbrella? New Novelty Memorabilia? New Shoes? It never ends – and sometimes that's a blessing when you run out of creative ideas.
If your dad is not like mine, he still may have an [insert hobby here] that you can run through the list time and again and he'll still be the happiest dude on the block.
What happens though when the hobby dad is not your dad (or the influential man in your life who holds that title in your heart … let's not get stuck on labels)? Then, you've got to be creative.
I talked about giving gifts to mothers that focus on your thoughtfulness and consideration of the value they give in your life. This idea works for dad's – but they don't often put as much stock into the sentimental as our mothers might.
The tweek here is to think "experience" over sentimentality. Gift your fathers your time by sharing an experience with them and creating a memory around something they love.
My own father lives on the west (best! He'll say) coast. That means I don't get to see him very often, especially at holidays. But I still try to find meaningful ways to gift experiences.
Gifts that stand out for me are:
Cirque du Soleil tickets for him and my step mother
An annual subscription to a local art gallery
Gift certificate to the restaurant my father and step mother had their wedding reception at
They were all things that they would enjoy together and it was my hope that the gift would also give them a chance to somehow link that new memory to me as the gift giver – as if I could be there with them enjoying the evening together in spirit.
For those of you with Ottawa Father's that you have no idea what to get for Christmas, here's a few experience based gifts that you might find to be a perfect fit:
Ultimately, it doesn't matter what you do – it's the time you spend together that means the most to him.
Best of luck!