Facebook Marketplace – How to Sell Your Stuff on Facebook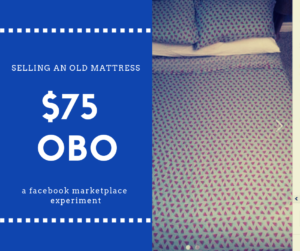 I have a story to share.
You would think that an old double mattress (worn and showing its age) would be worth nothing – but you would be wrong.
A few months ago I needed to sell an old mattress as it was taking up space. I was preparing for a move and determined that I would not bring this thing with me. I had no use for it.
Rather than throw it to the curb for pick up, I asked myself, how could I make a little extra spending money from something that was brining me no value. How could I pay for someone to dispose of this for me? It was still a comfortable spare mattress … I just had no use for it.
The answer: Facebook Marketplace
Sometimes people think that they have nothing of value to sell, or don't have the right words to say, but this experiment proved that it didn't matter about having the perfect write up or professional photography,  what mattered was setting a reasonable price, answering prospects quickly, and having any photos to show them that the listing was legitimate.
My post was simple: "Double mattress for sale. Watermelon sheets can be included for no additional cost. $75 obo. Pick up only. Baseline and Greenbank"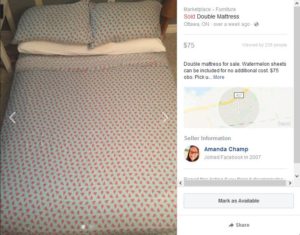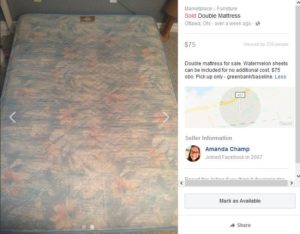 I was sure to include photos where the mattress looked okay (watermelon sheets) and where you saw the actual mattress itself, because I didn't want to deal with someone coming to pick it up and leaving the moment they saw "the real" thing. That would be a waste of everyone's time.
In addition, I was clear to note that my price was flexible. I had looked on marketplace to see what other bed sets were selling for and made sure that my pricing was competitive. "obo" is short hand for "or best offer" – I wanted people to know there was room for negotiation, because above all else I just wanted the mattress gone.
It's interesting to note that Facebook Marketplace wasn't my first choice of online postings. Kijiji had always been my go-to place to find apartment rentals in university, and used exercise equipment whenever I was determined to get back into shape … so it only seemed natural to launch my listing there. Facebook was just an extra add on, because I figured the more exposure the better.
The results were staggering though in terms of response and exposure. On Facebook Marketplace my listing was viewed 239 times, on kijiji it was viewed 23. The market was clear – for items like this no one was shopping on kijiji anymore.
Communication with prospects was simple through Facebook's messaging platform. I spoke with maybe 6-10 people over the 4 days it took to sell the mattress. Some wanted to know if I would deliver (with no car, I would not); some wanted to know if I would hold the item until September (I advised that it would be first come, first served … if it was still here I would gladly work with them, but I wasn't going to hold the item longer than I needed to); and some asked follow up questions about the condition (Were there stains? A few small ones. Were there springs poking out? None.), etc.
All of this lead to my buyer. She drove across the city from Orleans to pick up the mattress – a truly wonderful woman. She came in and looked over the mattress. We laid it out so should could give it a test run. I helped her load it into her vehicle. All very painless.
She offered me the full $75.00 I had asked for the mattress and was truly excited about it being a great deal. As a single mother, just recently divorced, she was using the mattress for her son to have a more comfortable place to rest. I offered her a discount on the mattress and told her to use what she had saved to treat her and her son out for a treat. I was overwhelmed by a) how easy it was to get rid of this mattress b) how nice the people I had spoken to throughout the transaction were and c) how thankful and appreciative this woman was It was the perfect transaction.
Think of Facebook Marketplace for your next online garage sale – you won't be disappointed.
Happy Selling!
p.s. want a how to guide on how to get your listing going on facebook marketplace? Check this out.