Moving Change of Address – Who Do I Have to Notify? (Rental)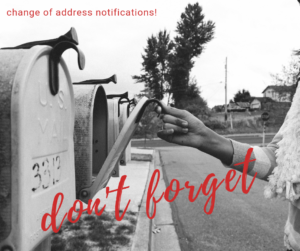 Moving is stressful.
What can add even more stress is trying to remember everyone you need to notify of your change of address when you move. Being in the midst of a move myself (think rental, not full home), I thought it might be useful to share my change of address checklist here – to help those in need of the same guidance. [Note – this list isn't exhaustive, and you may have additional service providers in your life that you will need to consider.]
For starters – protect yourself. No matter your best intentions you will likely forget an important provider or two. You can opt to have your mail forwarded by Canada Post. A four-month subscription is only $54.25 (if your move is within province). Well worth it for the peace of mind of knowing you won't miss anything important.
For anything that you do end up receiving through mail forwarding make sure you notify them ASAP that your address has changed.
Government
Ontario Driver's License & Ontario Health Card (and Vehicle permit if applicable) – you can do this online through the Service Ontario website
CRA – you can do this online through CRA's My Account Portal
 Banking
Ensure you notify all banking institutions you have holdings with (savings, chequing, retirement funds, etc.)
Notify all relevant credit card companies
Notify all relevant investment companies
Make sure your accountant knows where to find you!
 Employers
You'll want to notify your current employer of your address change as soon as possible
If you worked for another company throughout the year you will want to notify them of your address change to ensure you receive a copy of your T4 if you do not access them online
TV/Phone/Internet
You'll want to notify your cell phone carrier and internet provider, tv provider too (if applicable)
 Life/Home/Renter's Insurance
You'll want to notify your insurance company (this will likely be done before you move to ensure you are still covered)
If you have life insurance you'll want to ensure that they're notified too
Loan Providers
If you have student loans or other third party loans you'll want to make sure they have your new address (or maybe you don't 😉 )
Magazine and Subscription Services
Women's Health? Wine of the Month? All these people will need to know you've moved too
Netflix!
 Clubs & Organizations & Memberships
Are you a part of any special groups? Make sure they're kept up to date
Does your gym know where to find you?
Attending school, college or university – they're definitely going to need to know your new address
 Health & Family Providers
Doctor, Dentist, Optician, Family Vet, etc.
Friends & Family
Don't forget to give your friends and family your new address – or they won't know where to send birthday cards to 😛
Did I forget anything? I'll find out soon enough – but leave your thoughts in the comments below.
Happy Moving & Best of Luck!