Open House 101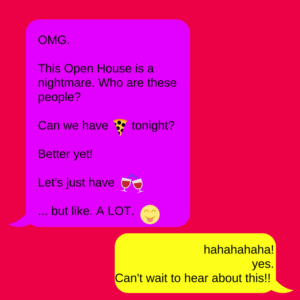 An Open House is a great real estate tool.
As a real estate agent, open houses are a gold mine for potential new clients, and provide the opportunity to market listings, business, and self. It's a place to rub elbows and network like crazy.
As a house hunter, open houses give you the freedom to see the properties you want when its convenient for you. If you're a great wallflower you can also get a sense of what others think of the property you love … and if you're lucky (and know the right places) you may even pick up some great food along the way.
However, its important to remember that an open house, doesn't mean "free reign" – you have to remember that a) this is someone's home (and they've graciously let you visit) and b) to use common decency.
Having been around the block, you can only imagine some of the stories we've heard. If you're preparing yourself for open house season, save face, and follow our quick OPEN HOUSE 101 guide for home buyers.
Step One – Sign In
Yes – we know you're tired of sign in sheets, but they're there for the safety of the agent and the security of the home owner. Don't roll your eyes at yet another sign in sheet.  Plus it lets sellers know that the agent is actually showing their home at these events.
(Pro tip – if you don't want to sign in, come back for a private showing with your buyer's agent; they'll take care of all the work for you!)
Step Two – Ask the Question
Is the open house agent the listing agent? The best way to find this out is to ask. The listing agent is gold and going to be able to answer all of your questions with authority. An agent filling in will do a good job, but depending on the question may need to refer you else where. Know when to take advantage of this opportunity when you have the right person in front of you (try to find out the sellers motivations, if they've received any offers … they may not tell you, but it never hurts to see how much information you can get).
Step Three – Kill 'em with Kindness
We know weekend time is so precious, and you probably have a whole list of properties you want to blow through, but don't forget to be polite. Even a smile can go a long way. Remember that the agent on duty is doing you a favour by making the home available to you. No cold shoulders, please!
#pleaseandthankyou
Step Four – Take Notes!
The best way to remember important information is to take notes. If you're viewing 3-5 (or more!) homes in a day, by the end of it they're all going to blend together. Most open houses will offer feature sheets with key information about the property. Use these sheets and make your own additional notes so you can remember which homes are worth taking a second look at.
Step Five – Ask Permission
Many home buyers will take note-taking one step further by taking pictures and videos of features they want to think more about. This is a great idea – but be sure to ask the agent before doing so. #commoncourtesy
Step Six – Don't dig your own grave
Of course it's okay to open closets and look at the storage space of any potential new home, but don't riffle through the home owner's belongings and expect them to not notice. Respect personal boundaries and remember that if this really is the home for you, you'll be back with a home inspector to do all the real hunting for you. #leaveittoprofessionals
Step Seven – Bite your tongue
Maybe the house you just toured is the most hideous shack you've ever witnessed in your life – but its best to keep that commentary to yourself. Chuckle about it with your partner in the car ride home … but don't berate the open house agent with your "witty" remarks.
Step Eight – Have Fun!
Don't forget to enjoy the moment. These are memories you'll have forever, and its not often that you embark on one of the most expensive journeys in your life. You'll want to be able to look back fondly, so make it light and fun!
Happy House Hunting – we'll see you out there!