Ottawa Date Night – Treat Yo' Self!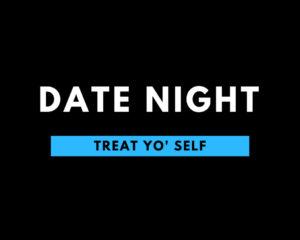 The weekend is near – and for many that means "Date Night"!
Your work week can often be unforgiving: late nights, endless interruptions, early mornings, and rushed goodbyes. You may be lucky to see that special someone for all of 10 minutes before you fall into a coma from life exhaustion.
This is why taking the time to dedicate quality, uninterrupted time to your significant other is SO important. Finding that special activity though can be time consuming, so we thought we'd but together a "Treat Yo' Self" date night itinerary.
… and it's a two for one deal! Whether you want to live like kings, or count your pennies, you can have the time of your lives!
Money to Burn?
Treat your lover to a 12-course molecular gastronomy feast at Atelier (~125pp). The tasting menu here is constantly changing, so you'll always be introduced to something new. If you're feeling extra lavish, opt for the suggested wine pairing ($~75pp).
Dinner here takes 3-4 hours (so go right after work!); the fine details of each course are helpfully explained by their amazing waitstaff.
Hiding in plain sight, you won't see any signs on this building's face – which means that to go there, you need to be in the know … making it seem even more like an exclusive club.
Finished dinner? The night is young!
Hop over the bridge to Casino Lac-Leamy ($$$) and try your hand with lady luck. Who knows – just maybe you'll strike it big!
Too much to drink? (Or just have too much fun?)
Turn your night into a romantic rendezvous and book an executive suite with a deep roman bathtub at the Hilton Lac-Leamy (~329/night), with breakfast in bed the next morning your busy work week will melt away, and your honey will be over the moon!
Nickels & Dimes?
 The price can't be beat for a meal out at El Furniture Warehouse. When everything on the menu is only $6 (per item), you have the world at your finger tips.
Next, head on over to the Chapters at the corner of the Byward Market. You can lose hours in a good book. Try finding something that will make your partner laugh out loud. (10 points, if you make them laugh so loud the rest of the store looks at the two of you in disgust!)
Want to check out a movie – but so over how expensive the big chains can be? Hop on the 95 (Orleans) and check out the Imagine Cinemas at St. Laurent. Ticket prices are low (~$6pp) and you'll avoid the huge crowds.
No matter where you go, no matter what you do, do it in love. <3
Happy Date Night, Ottawa!